The Methodist movement was born in the middle 18th century with mission at the heart of its purpose.  Some of the first actions of the "Holy Club," a group that Charles and John Wesley organized with a few friends at Oxford University, were visiting prisons, helping the poor, and spreading the word among the working class mining communities in Southwest England-which had been somewhat neglected by the church of England.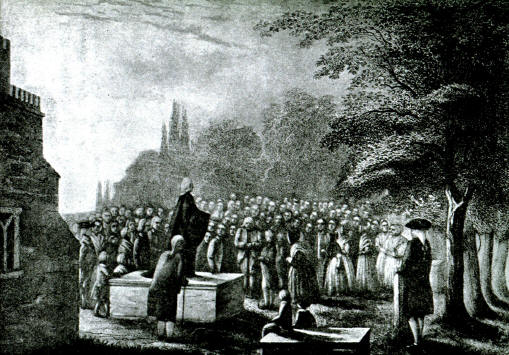 When John Wesley's popularity began to take hold with the masses, it did not equate to popularity among his colleagues in the priesthood.  Many would not invite him to preach in their parish church, so in some cases John Wesley would preach out-doors (a practice about which he had considerable qualms when it was first proposed to him by his friend George Whitfield—another Holy Club member who had tremendous success with the practice in preaching in America during the Great Awakening.)  On one occasion, not welcome in the parish church he grew up in as a minister's son, John preached to thousands gathered to hear him from his own father's tombstone in the church-yard!
Both of those "rock solid foundations" still influence our present day expression of faith. We are as determined as our founder, John Wesley, to share the good news in ways that sometimes even push our own boundaries.  Through our apportionment, we provide for prison ministries, agencies that help the poor, such as Restore Hope, and our General Board of Missions, which oversees thousands of Methodist missionaries around the world.  And after a "rock solid" $3000 contribution to the apportionments last week (including a great haul from the Parking Pharisees), we're well on our way to paying the last 25% of our apportionment.  I hope you can participate generously so that our church is a generous and "Rock solid" component of the Oklahoma Conference.